Nano-particles: Note: there are at least three species/categories of nano-particles": to wit...
~ Container Fragments; ~ "Source" Material; ~ Quantum Cohenrence Domain
There has recently been much reference to observations of "nano-particles" in homeopathic preparations. Observed nano-particles fall into (at least) three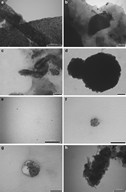 categories.
~ Container Fragments: succussion/agitation may (14) abraded fragments of the vessel in which the succussion is done (be that glass, metal, or plastic).
So, some "nanoparticals" may be an artifact of succussion
and may or may not be of relevance to the phenomenon of ultradilution.
The particles illustrated are 5 - 15 nm.
~ "Source" Material: Chikramane et al (15) have observed that dried concentrates prepared from metallic homeopathic remedies (beyond Avogadro's number) retained the spectrographic signal of the source material, the metal. To explain this phenomenon - for if the density of source material in the remedies during their preparation had been homogeneous, this would seem to defy the laws of logic and physics (and we could create gold!). The authors explain what they think might be happening as follows: "…during the succussion process, the pounding of solutions against a rubber stop generates numerous nanobubbles as a result of entrapment of air and cavitation due to generation of ultra-sound waves. The particles of the starting material instantaneously get adsorbed on the surface of these bubbles and cavitations. …
"This nanoparticle-nanobubble complex rises to the surface and can be within a monolayer once the total metal concentrations are well below 1 ppm . It is this 1% of the top layer of the solution which is collected and added to the next vessel, into 99 parts of fresh solvent and the succussion process is repeated. This transfer of the top 1% layer in each step will ensure that once we reach below a certain concentration i.e. well within a monolayer, the entire starting material continues to go from one dilution to the next, resulting in an asymptote beyond 6CH"
(So, again, we may be looking at an artifact of preparation which may or may not be of relevance.)