Wikisays: "Tensegrity, tensional integrity or floating compression, is a structural principle based on the use of isolated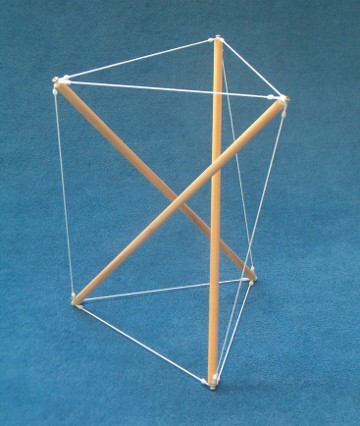 components in compression inside a net of continuous tension," in such a way that change/movement in any piece is reflected/ accommodated in all parts of the system. So, there are compression bars (rods or plates, or bones) and tension wires/tendons, and if you move one bit, the whole structure moves in accommodation.
The human (and other vertebrate) bodies are "tensegrity" systems. Tendons (primarily) function as the tensile elements, and the bones as the compression elements
It is more complex though. Not only are the muscles part of the system (with their contractions and elongations), but so is the fascia. (see fascia).
So, move one art of the body, everything shifts! (to some extent)
Wikisays: "The term tensegrity was coined by Buckminster Fuller in the 1960s as a portmanteau of "tensional integrity"."